At TruHeat Systems, we specialize in providing the most energy efficient in-floor heating systems. Our heating systems are based on our proprietary metallic heat tape technology which allows our systems to offer unmatched energy efficiency versus all conventional floor heating systems. In addition, TruHeat systems offer easy installation and offer far more benefits that other heating systems simply cannot provide.
Our unique underfloor heating systems are perfect for all floor types such as stone/ceramic tiles, laminate flooring, vinyl plank flooring, click engineered wood, or even carpet. Learn more why your next radiant floor heating system should be a TruHeat system. 
ADVANCED METALLIC HEAT TAPE TECHNOLOGY
Quite pleased with truheat infloor system. Found it user friendly as well as a more efficient Mat compared to others. Friendly and informative whenever necessary.
Michael R.
I installed a TruHeat system to provide heating in the main living area of my place, and it works wonderfully. I wish I had done the entire place with it! The quality of the product is obvious, and installation is a breeze. I am very happy with my in floor heat. Thanks, Zach!
JOE H.
I just created a home office on the ground floor and was concerned as the room is cold in the winter. I just had the TruHeat system installed and am thrilled with the comfort of my new space. It is a great product and the staff really cared about me and even gave me help with finding an experienced installer. I highly recommend TruHeat as a super product.
Marg C.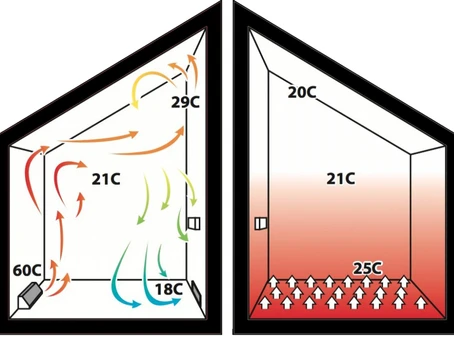 Few are aware of how much more efficient radiant heat can be compared to forced air systems. Read more and
Read More
Contact us via phone or email for any questions regarding our electric floor heating systems. Our dedicated staff members will be delighted to help you with any inquiries you might have.